InfoWorld | L.A.S.C. | Ray & Berndston | Tragon | ConAgra Foods
InfoWorld Magazine
1 | 2 | 3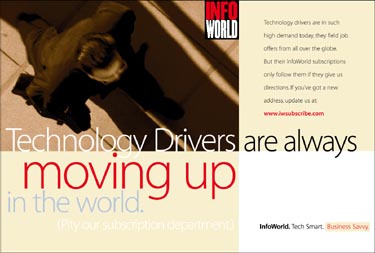 InfoWorld Subscription Advertisement
Headline
Technology Drivers are always moving up in the world. (Pity our subscription department.)
Body Copy
Technology drivers are in such high demand today, they field job offers from all over the globe. But their InfoWorld subscriptions only follow them if they give us directions. If you've got a new address, update us at www.iwsubscribe.com
Tagline
InfoWorld • Tech Smart • Business Savy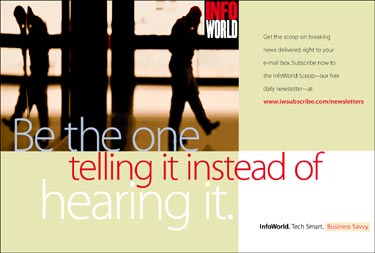 InfoWorld Subscription Advertisement
Headline
Be the one telling it instead of hearing it.
Body Copy
Get the scoop on breaking news delivered right to your e-mail box. Subscribe now to the InfoWorld Scoop-our free daily newsletter-at: www.iwsubscribe.com
Tagline
InfoWorld • Tech Smart • Business Savy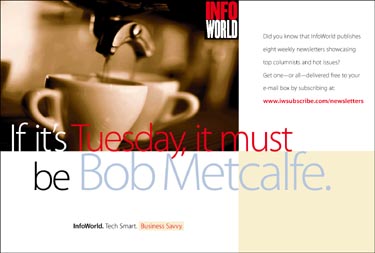 InfoWorld Subscription Advertisement
Headline
If it's Tuesday, it must be Bob Metcalfe.
Body Copy
Did you know that InfoWorld publishes eight weekly newsletters showcasing top columnists and hot issues?
Get one-or all-delivered free to your e-mail box by subscribing at: www.iwsubscribe.com/newsletters
Tagline
InfoWorld • Tech Smart • Business Savy